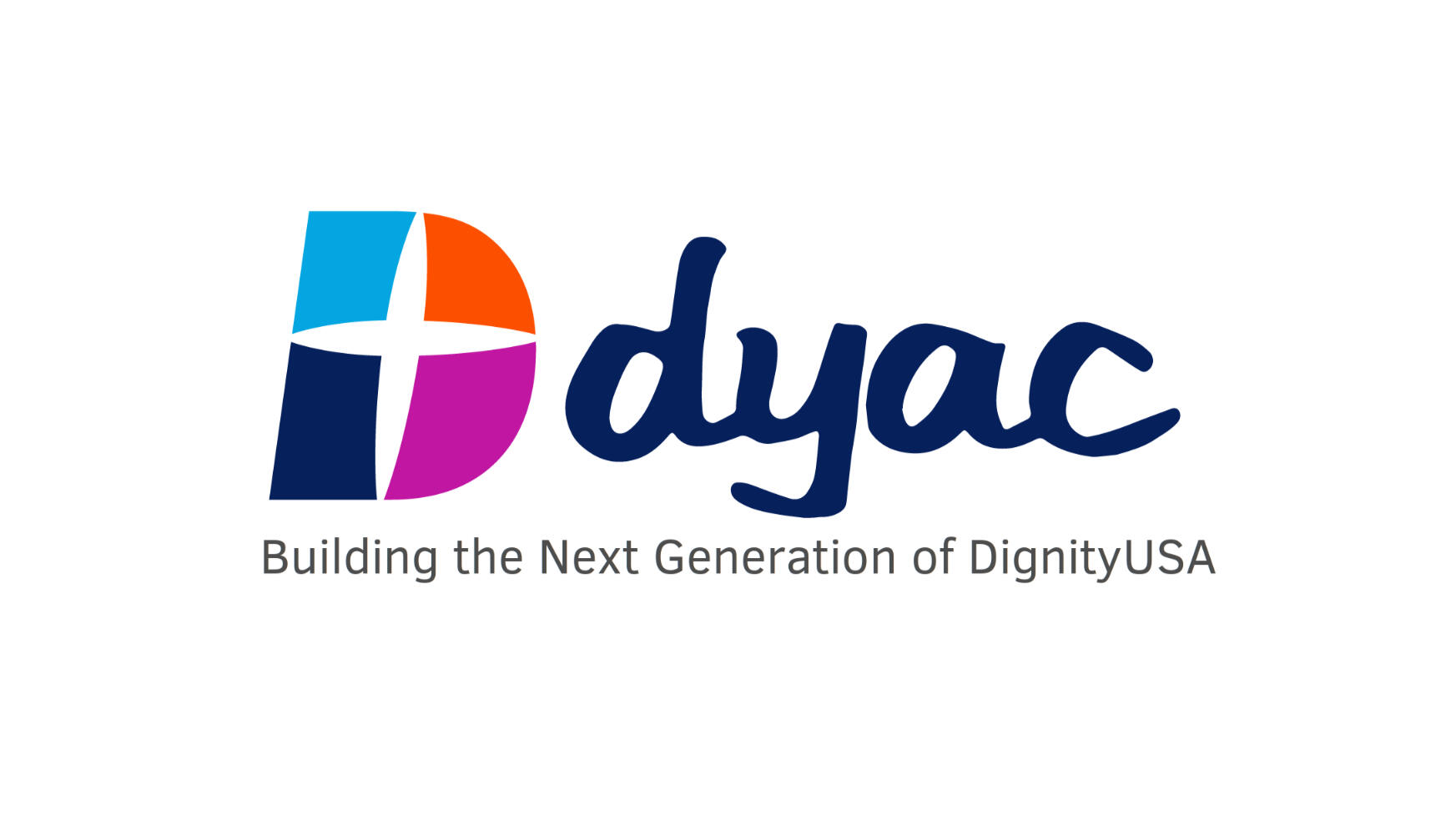 Welcome
---
The Dignity Young Adult Caucus (DYAC) is a progressive community of young adult LGBTQIA+ Catholics and their friends. The DYAC was formed as the official young adult group of DignityUSA. We believe that as LGBTQIA+ Catholics our diverse lives and relationships should be celebrated and affirmed with dignity in our Church and Society. The purpose of the Dignity Young Adult Caucus (DYAC) is to create a faith community to nurture and celebrate the LGBTQIA+ lives of our peers, helping guide each other on our spiritual journeys.
---
Our community is:
---
proud to be lesbian, gay, bisexual, transgender, queer and more!

proud of our Catholic heritage and spirituality

from ages 18 to 39

comprised of members across the United States

meeting monthly on zoom for discussions, game nights and community

hanging out on the DYAC discord
---
Monthly Meetings
---
Please join us at our monthly meetings on the last Tuesday of every month at 8:30 pm EST / 7:30 pm CST / 6:30 pm MST / 5:30 pm PST via Zoom. We have game nights, discussions, reflections but most importantly a chance to enjoy the company of our LGBTQIA+ siblings in faith.
---
Join Us!
---
---
DignityUSA
---
We are a caucus within DignityUSA, the largest & oldest organization of LGBTQIA+ Catholics. In accordance with www.dignityusa.org/purpose, we believe that:
"LGBTQIA+ Catholics in our diversity are members of Christ's mystical body, numbered among the People of God. It is our right, our privilege, and our duty to live the sacramental life of the Church, so we become more powerful instruments of God's love working among all people"

"LGBTQIA+ persons can express our sexuality physically, in a unitive manner that is loving, life-giving, life-affirming, and consonant with Christ's teaching".
---
Leaders
---
Kenneth Dowling
I have been involved in DYAC since attending my first DignityUSA convention in 2012. I'm a lifelong Catholic, originally from the SF Bay Area, who have lived in San Diego, DC, and Iowa, and now live in Chicago. I co-chaired DYAC in 2015-2017 and am excited to do so again. I also served on the Board of Dignity Washington from 2012-2015, in young adult group leadership at an LGBT-affirming parish in San Francisco from 2018-19, and on the national Board of Dignity USA from 2020-21. Outside of church, I just earned my PhD in clinical psychology and completed my dissertation on religious identity and internalized homophobia.Inspired by the Francis papacy and D/USA's new strategic vision, I envision Dignity as the center of the LGBTQ Catholic coalition and a major player in the LGBTQ faith-based movement. Although our members may not worship in person in local chapters, I want us to keep providing community, advocacy opportunities, and sacraments otherwise denied to us. I plan to increase young adult, Latinx, and cis/hetero ally involvement, strengthen our online presence, network with new LGBT Catholic and Christian groups, and turn Dignity to the future.Madeline Marlett
I found DignityUSA in September of 2020, and joined the DYAC group in April of 2021. Dignity has become a large part of my life as I am active with the Dignity Women's Caucus, the Dignity Boston Chapter and DYAC. I was born and raised Catholic and very happy to have found a Catholic faith community that finally feels like home.Moved by the continued love and support I have received since finding Dignity, my foremost goal is to reach others so they can experience the same trans-formative love I have. I hope to organize college out-reach efforts so that our LGBTQ siblings know there is a community of faith for them. I see DYAC as the next generation of activists to push our society and religious institutions to greater acceptance and affirming celebration.Don't be a stranger, feel free to reach out and lets work together to make the DYAC community something really special.